LOCATION:
HOME
> Events > Business Matchmaking
Русский Язык


Introduction
cippe is an annual gathering of global oil & gas industry and welcomed tens thousands of exhibitors and millions of visitors in the past 19 years. Every March, industry enterprises showcase here, establishing and maintaining business relationships. cippe Business Matchmaking Meeting aims at providing a more effective and convenient matching platform for international & domestic exhibitors and visitors.
cippe2019 Business Matchmaking Meeting welcomed around 400 participants from 130 companies of China, Russia, Canada, Estonia, Saudi Arabia, Kuwait,India,Nigeria, etc. On cippe2020, we expect to see more international enterprises get in connect with their target customers.
Hereby, we sincerely invite visitors & exhibitors from domestic and overseas to participate in!
Note:
If you are procurement person who has purchasing/project investment demands, welcome to register to be our VIPs. We will specifically invite potential customers to meet you on-site.
If you are supplier, please fill in your products for us to searching correct matching companies.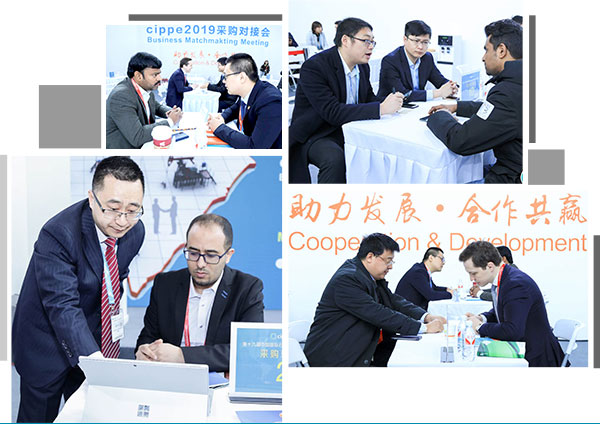 Schedule
10:00–12:00, June 8th Undetermined
13:00–16:30, June 8th CNPC & SINOPEC & CNOOC Purchasing Session
10:00–12:00, June 9st Asian Session
13:00–16:30, June 9st European & American Session
Registered VIP Buyer Benefits
1. Free VIP delegate pass to Business Matchmaking Meeting & cippe exhibition;
2. Customized purchasing service to meet target suppliers;
3. Company logo print on cippe2020 Post Show Report and marketing materials placing at matchmaking area;
4. Each company enjoy one free delegate pass to cippe Opening Ceremony, Gala Dinner or other business activities;
5. Free Catalogue;
6. Gift from organizing committee;
7. Off-line industrial activities recommendation & business connecting in non-exhibition period.
Note: Only VIPs who passed review by cippe Organizing Committee will enjoy No. 4.
Procedure
Partial Exhibitors

Contact